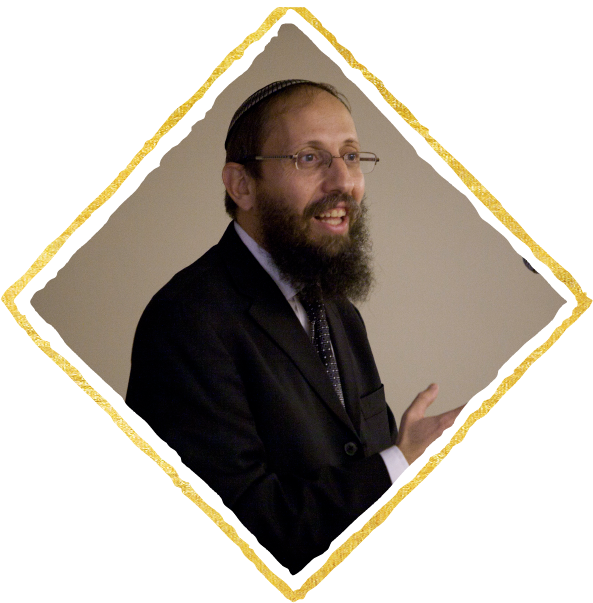 Rav Yosef Zvi Rimon, born in Tel-Aviv in 1968, is the grandson of the renowned poet and author, Yosef Zvi Rimon. He is a prolific author of Halachic works which reflect his unique approach, taking the reader from the sources to the practical application of Halacha in our modern reality. These include the "Shirat Miriam Haggadah for Pesach", "Halacha for IDF Soldiers", "Shemita", "Yom Kippur Machzor", "Birkat Ha'Mazon and Zemirot Shabbat", "Arba'at Ha'Minim" for Succot,  and much more. "Shabbat Shamor" and "Shabbat Zachor" are now in advanced stages of writing and will, in all likelihood, be recognized as his magnum opus. Rav Rimon's books are widely used throughout the world.
Rav Rimon is Founder and Chairman of the Halacha Education Center which develops innovative educational curricula for Jewish studies in Israel and abroad using cutting edge technologies. The Center's work includes outreach in Latin America in Spanish and Portuguese-speaking communities. In addition, a Responsa Center has been established, providing in-depth answers to Halacha questions from Rabbis and laymen throughout the Jewish world. Rav Rimon is an internationally recognized "posek", working closely with the Israeli Rabbinate. Moreover, the Chief Rabbinate of South Africa invited Rav Rimon to their country in order give a Halachic ruling on a highly complex issue. A Shemita Visitors Center was established at the Jerusalem Botanical Gardens in 5775, with thousands visiting and learning about the laws and universal values of Shemita.
Rav Yosef Zvi Rimon is the Rabbinic Head of the Jerusalem College of Technology and the Head of its Batei Midrash. His lectures are widely attended by students, faculty and citizens from around the country.
A very sought after lecturer, Rav Rimon teaches at Yeshivat Har Etzion, Migdal Oz Girls Seminary and is frequently invited by communities in Israel and around the world to serve as Scholar-in-Residence. He also serves as the community Rabbi of Alon Shvut South in Gush Etzion.
Motivated by the words of the Rambam who writes that the greatest level of chessed is to help an individual find employment so that he can stand on his own two feet, Rav Rimon founded JobKatif shortly after the disengagement to help Gush Katif evacuees re-integrate into the work place. While JobKatif continues to work with the evacuees, they have developed new initiatives to help other population sectors who find themselves on the fringes of Israeli Society.
In recognition of his work on behalf of the Jews of Gush Katif, Rav Rimon was awarded the President's Prize for Volunteerism by President Shimon Peres in 2008, and the Moskowitz Prize for Zionism in 2014. (It is interesting to note that his grandfather, Yosef Zvi Rimon was awarded the President's Prize by Yitzchak Ben-Zvi 50 years earlier.)


US Dollar Donations
By Mail: For U.S. Tax-Deductible Contributions by mail: "The Central Fund of Israel" ( to earmark donation for a specific project write the name of the project in memo line, otherwise write JobKatif) Mail to: Beth White, 65 Argyll Avenue, New Rochelle, NY 10804
Canadian Dollar Donations
Click here to donate  Select JOBKATIF from dropdown menu
By Mail: For Canadian Tax-Deductible Donations-
Write check payable to "Ne'eman Foundation Canada"
( in order to earmark your donation to a specific project write JobKatif or JobKatif-Achotenu or JobKatif-Ta'asuChayil in memo line)
Mail to: Ne'eman Foundation 75 Lisa Crescent Thornhill, ON L4J 2N2
Israeli Shekel Donations
By Mail: For Israeli Tax-Deductible Contributions
-Make checks payable to: JobKatif Mail to: JobKatif POB 214 Alon Shvut 9043300
(JobKatif is recognized for tax purposes in Israel under סעיף 46)
To make a credit card donation in Israel, please contact our office at 02-580-0070 during business hours.
Australian Dollar Donations
For Australian Dollar Tax-Deductible Donations: Funds can be transferred to: The Jewish National Fund (Australia) Pty Ltd., BSB 012013, Account #303638503
South African Rand Donations
By Mail: For South African Tax-Deductible Donations –
Bank Transfers: Account Name: Bnei Akiva Friends of Israel Bank: Nedbank Account Number: 101-365-3777 Branch: Diamond Exchange 193205
UK Pound Donations
By Mail: For UK Tax-Deductible Contributions
Write check payable to "UK GIVES"
(write 580459436  in memo line, in order to earmark your donation to a specific project add  580459436 JobKatif-Achotenu or 580459436 JobKatif-Ta'asuChayil in memo line)
Mail to: 483 Green Lanes London, England N13

POB 214 Alon Shvut 9043300 Israel info@jobkatif.org
02-580-0070
I Would Like to Make a Special Donation

(Honor, memorial, etc.) (please fill in the details and we will get back to you)